Last weekend I attended the Western Hunting and Conservation Expo in Salt Lake City which was, like always, a great time. Part of the fun this year was walking around and meeting up with a few of the people I talk with on social media to actually put a face to a user name! Along with that, I was able to meet a lot of new friends and spend time seeing the in's and out's of some amazing products. This post is going to be a synopsis of how I would gear up based solely on what I saw and experienced at the Expo this year!
Lets start at the bottom:
Boots -
Kentrek Boots
: Give it there were not a lot of different boot companies at the expo but I took a moment to sit down and try on a pair of
Kentrek Boots
which really took me by surprise. I was immediately impressed with how comfortable they were right out of the box and felt like they were already broken in. These boots gave a lot of support in the ankle and seemed to be very study construction... When I saw the price of the boot I was a bit shocked but I would suppose they would live up to the price... ($400+)
Clothing -
This section will be split into two different categories Daily Wear and Hunting Clothes.
Daily Wear:
I really liked a lot of the different clothing companies and it seemed like there were a lot of them this year. Some of the companies I saw and liked were
Sweat n' Bulletz
,
Scout Outdoors
,
Tines Up
, and
ZIIS
. As many people would agree, clothes are just clothes and in all reality what is on your shirt does not always reflect who you are. With that said, the people in the
ZIIS
booth,
Scout Outdoors
Booth, and
Sweat n' Bulletz
booth went out of their way to say hi, get to know me, and make me feel like a friend. They didn't care if I bought a shirt or hat at all, but they just wanted to know who I was and cared more about friendships than merchandise. Because of that, I would strongly recommend supporting either one of those three companies if you want to pick yourself up some cool looking clothing.
Me at the Sweat n' Bulletz Booth
Scout Outdoors Booth
Hunting Clothes:
This area was by far my favorite discovery this year at the Expo. While walking around I literally almost walked right past this booth thinking it was some high end camo company that I had already seen. When I saw the
Game Gea
r
logo in the booth I quickly realized that I didn't recognize the brand so I stopped in and had a look. About 15-20 minutes later I had talked to a few of the people in the booth including Ron from
Boned Out Productions
who was able to fill me in on some of the great qualities of this product. Not only was I impressed with the product but the people were great and easy to talk to. Once I started looking at the prices of the gear I was blown away at how affordable it was compared to many of the other companies/brands out there. Knowing that this gear was made out here in the West for those who hunt out here, I was becoming more are more of a believer.
Game Gear
makes everything from base layers to cold weather gear, and even make a snow camo line that they had on display at the show.
Game Gear
is new to the camo business but not new to the clothing/athletic gear business. Their products are built to be used to the extreme and withhold the elements you put them through.... Plus they look pretty freakin cool!
Pack:
Exo Mountain Gear
: I first read about this pack from
Sole Adventure's blog
and really liked the idea of it so when I saw their booth I had to stop in and see the in's and out's of it for myself! This pack was made specifically for hunters by hunters! As I sat there and listened/watched Lenny go through all of the different features I had read about previously I was blown away. The versatility of this pack combined with all of the different options/accessories impressed me tremendously. One of the concepts I liked about this pack was its design to allow you to pack for a back country trip while also being able to have all of your hunting gear easily accessible at a moments notice.
Optics:
This one was an easy choice for me having used
Hawke Optics
as well as a hand full of the other optics brands who were at the show.
Hawke Optics
still impresses me with the quality of glass they are able to provide while also being priced far less than their competitors. Some of the products I liked from them this year is their line of
compact binos
. I have used their Sapphire ED binoculars which I am writing up a review on which I will post next month, but at the show I was really excited about their
compact binos
. These binos were light weight, small, and powerful which is exactly what you want for back country hunts or even just to have to shave off some weight and size of your normal binos while hunting.
Accessories:
There were a hand full of products this year which were interesting and seemed to be useful. Some of them that caught my eye were
Inergy Home
(solar power panals),
Tribe One Outdoors
(PackNet), and
OnXMaps
. I myself feel that you can never have to many accessories and little gadgets that make your life/hunt more convenient. I would honestly say that all three of these companies/products are worth looking into. I already use OnXMaps to scout out my hunting areas and plan out my hunts. One think I like about their product is that you can scout while at work (just don't tell your boss), at home, or any other location where you have your phone on you. With OnXMaps you are able to store maps of your hunting area so that you are still able to use the app when you are out of cell phone service. Using this on your hunts and scouting can be very beneficial.
The
Inergy Home
solar panel is one product I am interested in due to the fact that if I use my phone or GPS with OnXMaps I want to make sure I have enough battery to use it during my whole entire hunt. The
Inergy Home
charger works differently than other solar panels in that they have an internal battery pack that is charged by the solar panel which then charges your device. This allows you to use your device during the day and then charge it when the sun has gone down. Also one benefit of this device is that it is 100% water proof! I was able to visit with some of the workers at the booth and see pictures of their testing on their product which was very impressive about how water proof their device really is!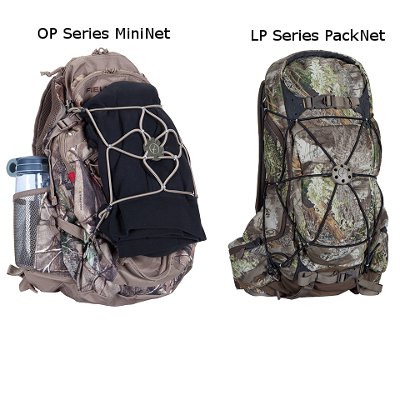 Tribe One Outdoors
makes a "PackNet" which is a web like contraption of bungee cord that is easily attached to the outside of any pack which allows you to additional gear to your pack if needed. I really liked this product at the Expo and was quite impressed how their PackThach system allowed this product to be used on any pack that you already have. In their booth they had displayed all of their different products showing how they can be used to hold your bow or rifle onto your pack as well as used to make a simple pack capable of carrying much more gear than it would without the Tribe One PackNet or their smaller version Tribe One MiniNet. This is product allows you to increase your carrying capacity without having to add additional weight with some other form of carrying case or pack. I strongly feel that this product is simple yet innovative enough to be around for a long time.
I really had a blast this year and enjoyed talking with all of the people I met. Once again this list is based off what was at the Expo this year. I feel that these products are at least worth checking out like I did then if it meets your needs I would recommend considering adding them to to your gear! I hope this helps for those of you who couldn't make it to the Expo.